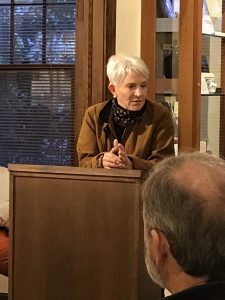 Both cities were great, in Jackson I read and spoke at the Eudora Welty Center right next to the Welty house — was given a private tour of the house, much appreciated. Saw several of her manuscripts laid out on a dining room table — I mean ones she had edited and noted how she had arranged syntax to get rid of 'and's. Wonderful audience. A man named Richard (didn't get his last name) spoke of his favorite passage in NOTW and I asked him to read it aloud, and he did, he did a great job.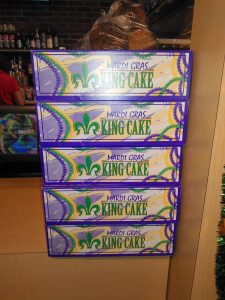 We are nearing Mardi Gras and so it's King Cake time in the south! This was at the little deli outside of Lemuria Bookstore, They are flying off the shelves. Great bookstore, thanks to Kelly Pickerill of Lemuria for being a great hostess and escort, more later.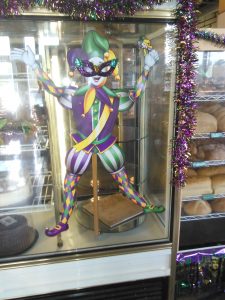 This is Mardi Gras staring you in the face. I love the south.
Savannah Book Festival was extravagant to say the least, I had a very large crowd of people to speak to, great questions, much enthusiasm for the Captain and Johanna. Met Mark Hall's mom and dad, so that was a bit from home. Mark is our baritone and guitar player for the bluegrass group. Got to walk around afterwards and take pictures. Savannah is just extravagant. Case in pint; lobby of restaurant in my hotel, The Mansion: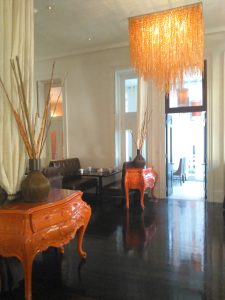 I will not include pictures of my Gone With The Wind bedroom and bathroom, that is just too redneck. But details were everywhere, backstairs and window facings.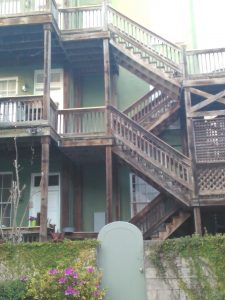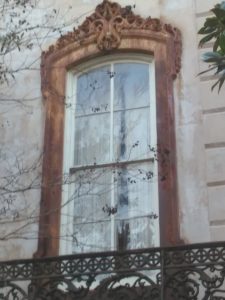 and spooky houses on one of the squares at dusk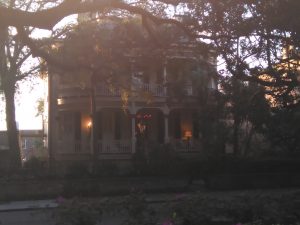 And an art museum horse with garden hose wrapped around his middle. Loved it! Wish I had it. Don't know what I would do with it.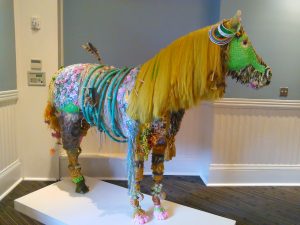 Four of us are hauling to Big Bend Wednesday, close on the heels of my return from Savannah, but couldn't NOT go, it is a yearly tradition that I look forward to so much, pictures to come. We each take a dinner, so will make the King Ranch chicken tomorrow and try to clean up Buck who is plastered with mud from recent rains and before I go catch up on e-mail and an article for the Amtrack magazine. I am meeting myself coming and going. But no more traveling after this (I get nervous every time I have to pass through security now, an awful feeling) and back to bluegrass and writing and pennywhistle.