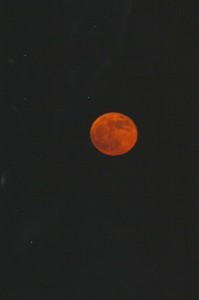 This isn't it. It is a shot of the moon I got about three months ago. But it's pretty red! It was cloudy last night and we missed it. We — I mean I was riding with friends Mark and Nancy and June, and afterwards we had wine and other great stuff at June and Wayne's place, God what a sybaritic life I lead. Good wine good friends and stories about Wayne's family which I could listen to forever. We rode on June and Wayne's neighbor's place, also named Chism but I think with a U — Chisum. Strange to think that name and all spellings of the name come from the English place-name 'Cheeseholm'. 'The valley where they make cheeses'.
Waiting anxiously for rain and cold weather.
October 8th I fly to Denver for a convention of the Mountain and Plains Independent Bookstores people — to plug 'News Of The World'. Evelyn O'Hara flying with me, to visit her daughter near Denver. So good to have a traveling companion.
The Grady Cat will stay in the house by himself for three days, won't kill him. Since I lost Rita have to think about getting another dog in November sometime. For an early-warning system if nothing else. Grady has ruled his little kingdom here all by himself now for months, don't now how he'll take it.