It's been so long since I wrote for this blog that I feel like a complete stranger to all the bells, all the whistles and the do-dads and new gizmos. It's been four months since hip replacement surgery and am still not quite right. At some point, spending most of the day in bed, I just stopped reading the 'news' on my tablet. I gave it up.
At any rate, I will try to catch up. Last night did a performance with the music group and one song was 'Wayfaring Stranger' and as always Tom was terrific on the fiddle.
He had texted, "I am coming straight from work for rehearsal, no time to change, hope you'll overlook this'.
So of course when he rushed in carrying his fiddle case everybody held their noses and gasped and staggered backwards. He'd been operating the big blade machine all day, the one that uproots cedar.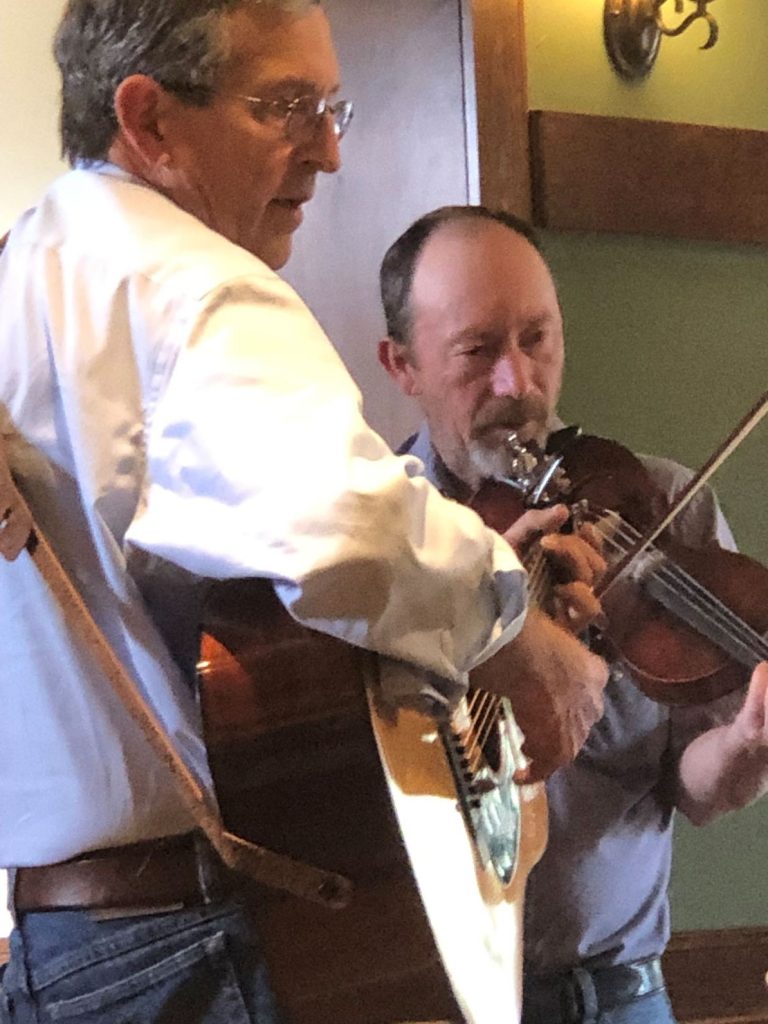 Above, Mark on guitar and Tom on fiddle.
Also work on the new book — finally the Harper Collins strike is over and so the novel is back in the pipeline again. Here's the cover. Most people like it. At first the image of the rider did not have a hat and I insisted that they put a hat on him which they did.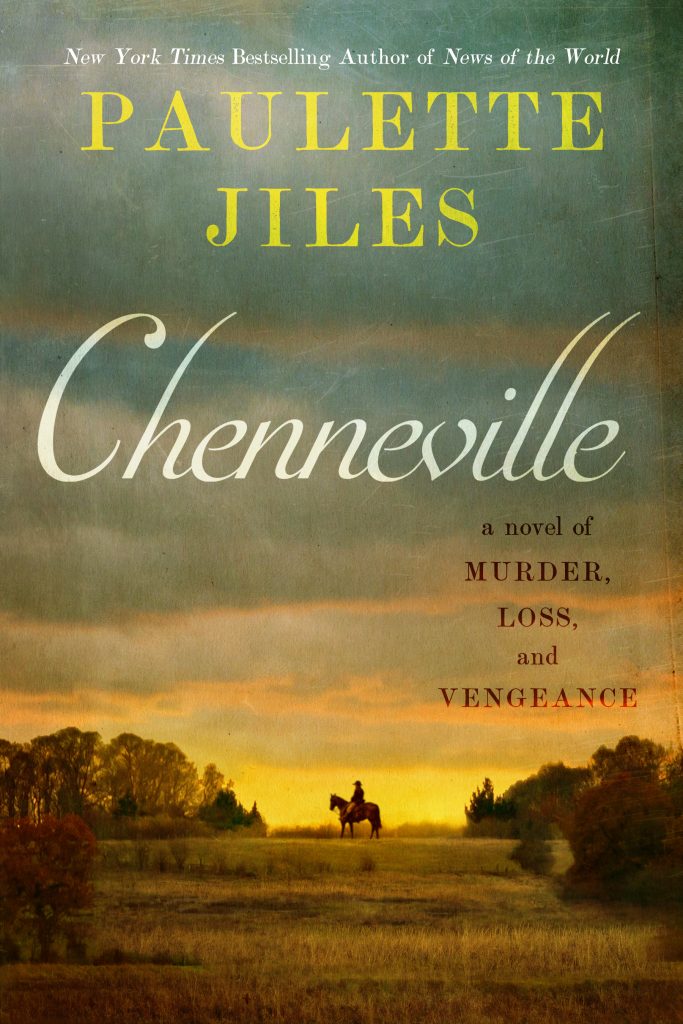 I had wanted to complete my post on visiting the Contreras family last August, and so finally am getting to the photos from the Museo de Antropologia de Xalapa, a most beautiful building. Elvia and I went there and spent the day. It is a beautifully designed museum. Long terraces sloping downward, all under glass of course, and the collection of Olmec clay sculptures were amazing. Elvia talked the young ladies at the entrance into giving us a discount on entrance fees — she being a retired teacher and me too, apparently!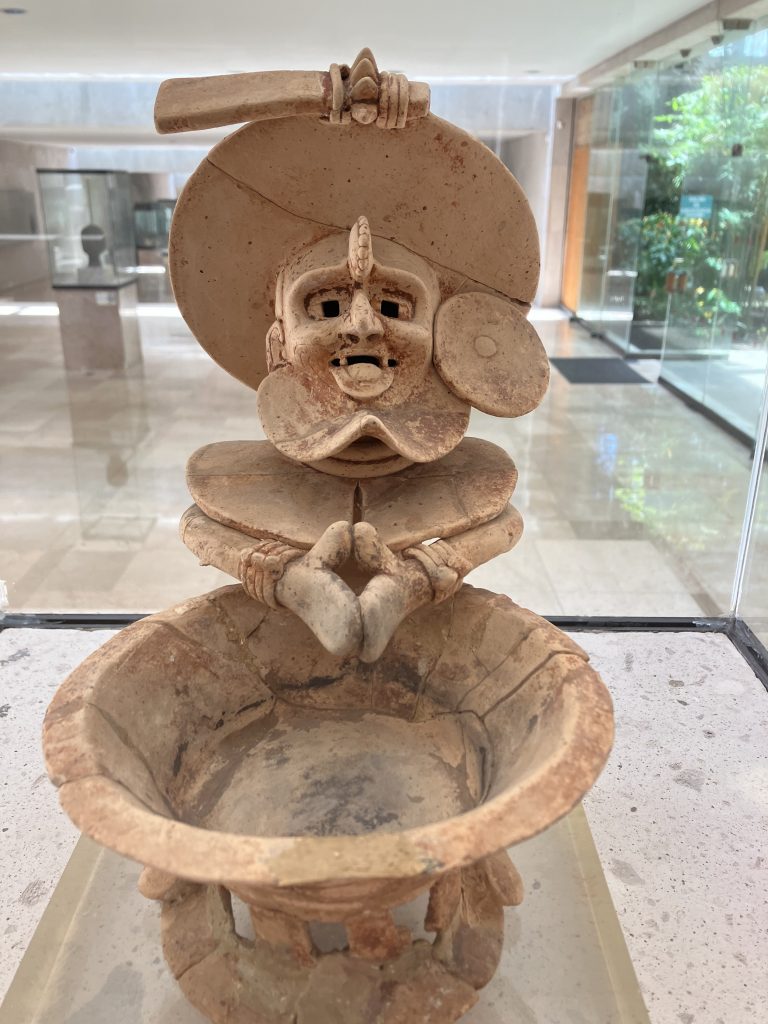 These are all so human, so personal and yet universal. So alive! They are the early Olmec sculptures, full of life and work and faces you seem to know. This old fellow is apparently the divinity of fire — he makes fire in the basin. This is why he's wearing mitts. Observe the missing teeth and the jolly, jaunty do-dad on his hat. A world-wide figure, the one who makes fire, like blacksmiths the world over, he handles magic and sparks and light.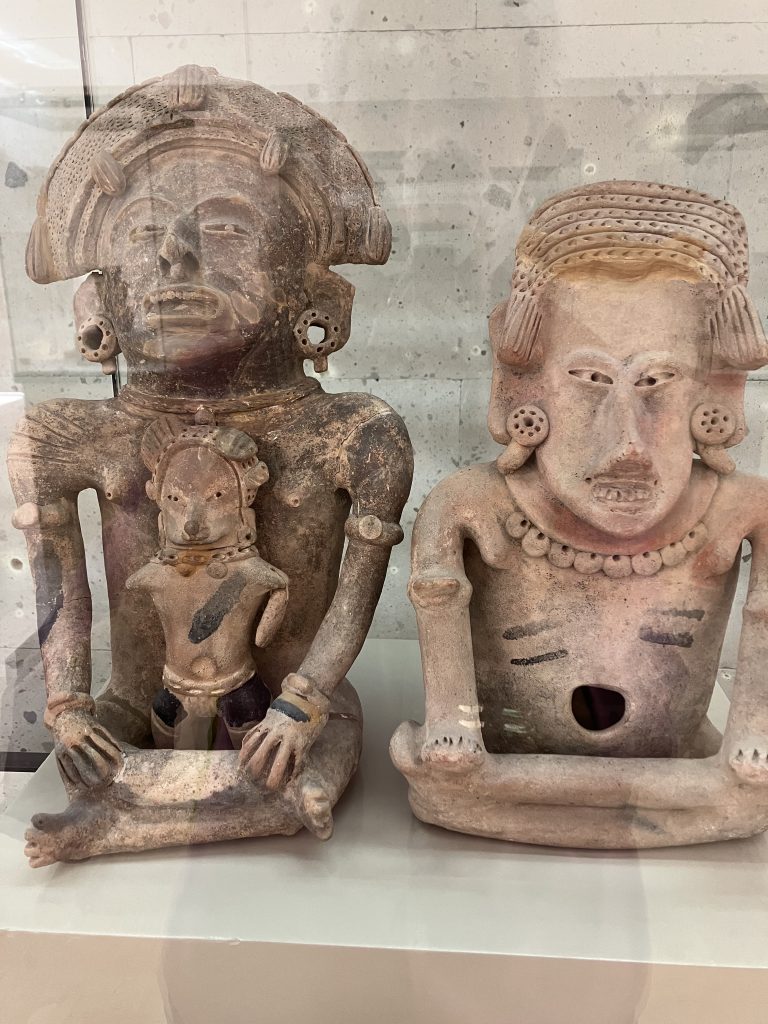 There is no way to know what these figures signify so one is reduced to wild guesses. The one on the right is clearly unhappy and looks savage with anger but who knows? Maybe it's the dog paws instead of hands. The one on the left seems to be taking a deep breath, and the dog/human figure in his/her lap (the figure seems to have rudimentary breasts) has a peculiar little hat with ears, one up and one down. At any rate, you know people with faces just like these.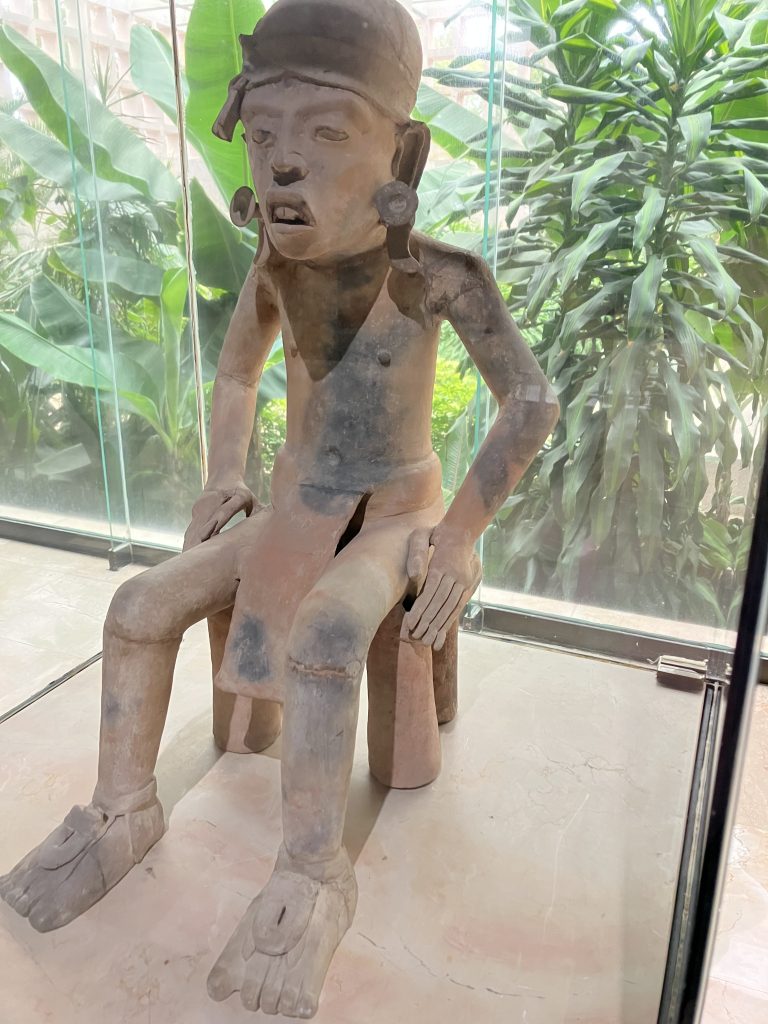 There is no way to know for what purpose this figure served but he seems to have just set himself down after a hard day's work hauling rocks for the latest temple. He's wore out. He could really use a big mug of pulque. But again, he is so alive, so vernacular and expressive. This was one of my favorites.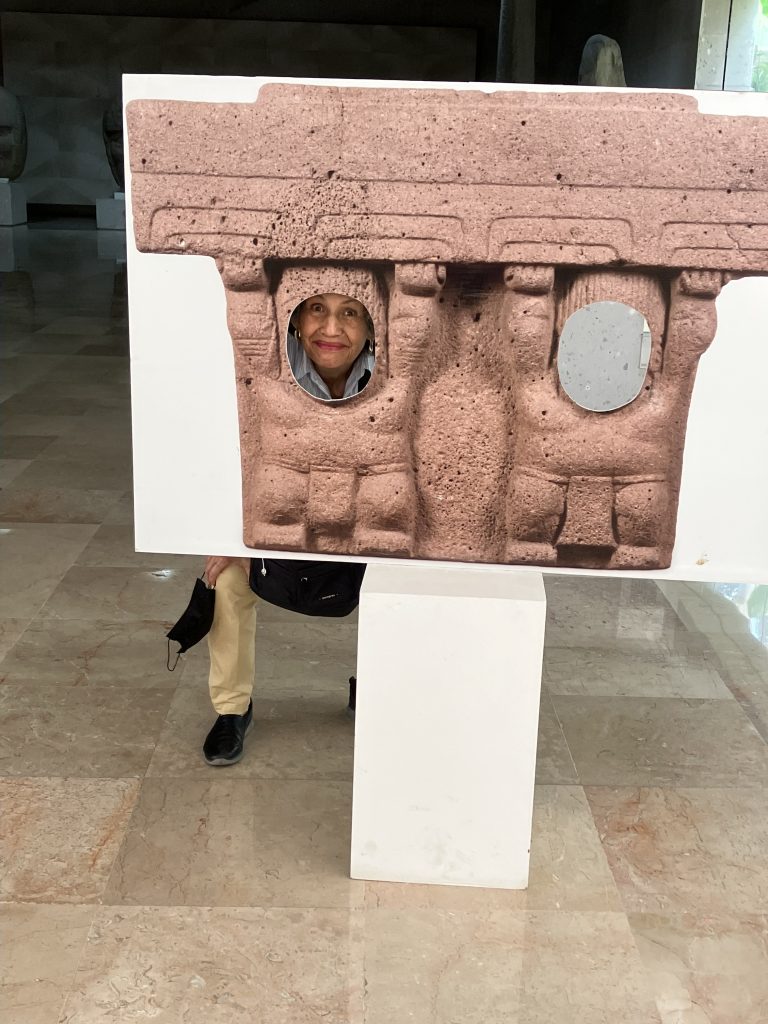 And here's Elvia in one of the photographic opportunities provided! I made myself amazing and attractive in another one but she took it on her phone and has forgotten to send it to me.
Here is the text re; the Olmecs, it's in Spanish but easy enough to read. And one of the famous 'baby face' stone heads.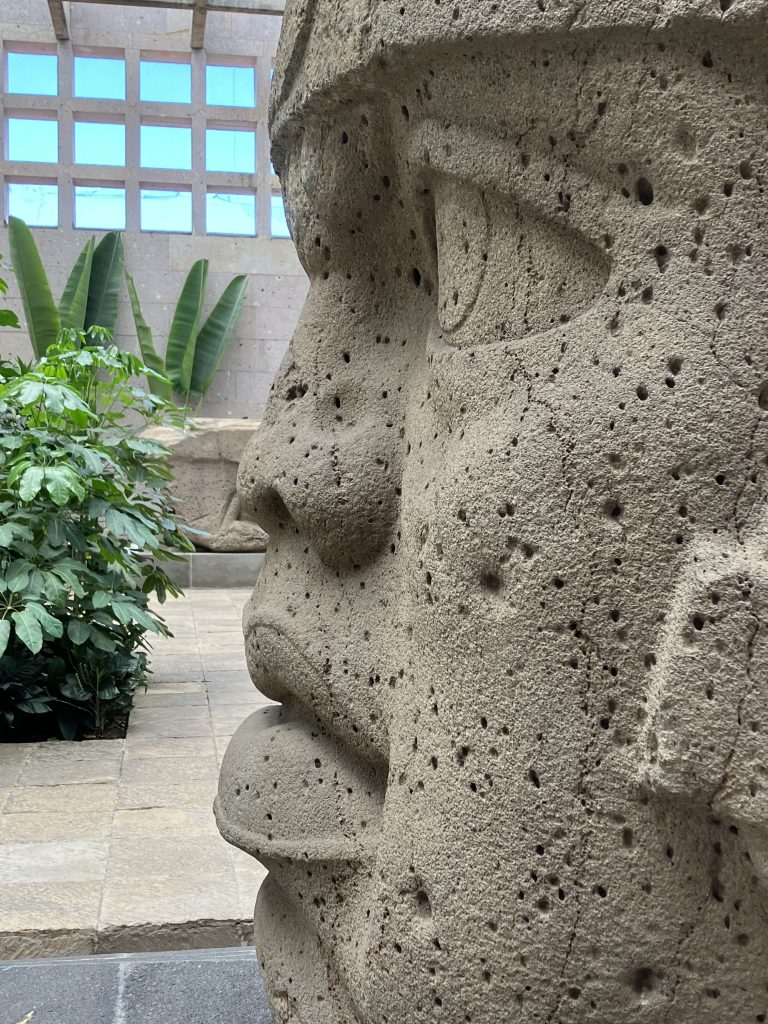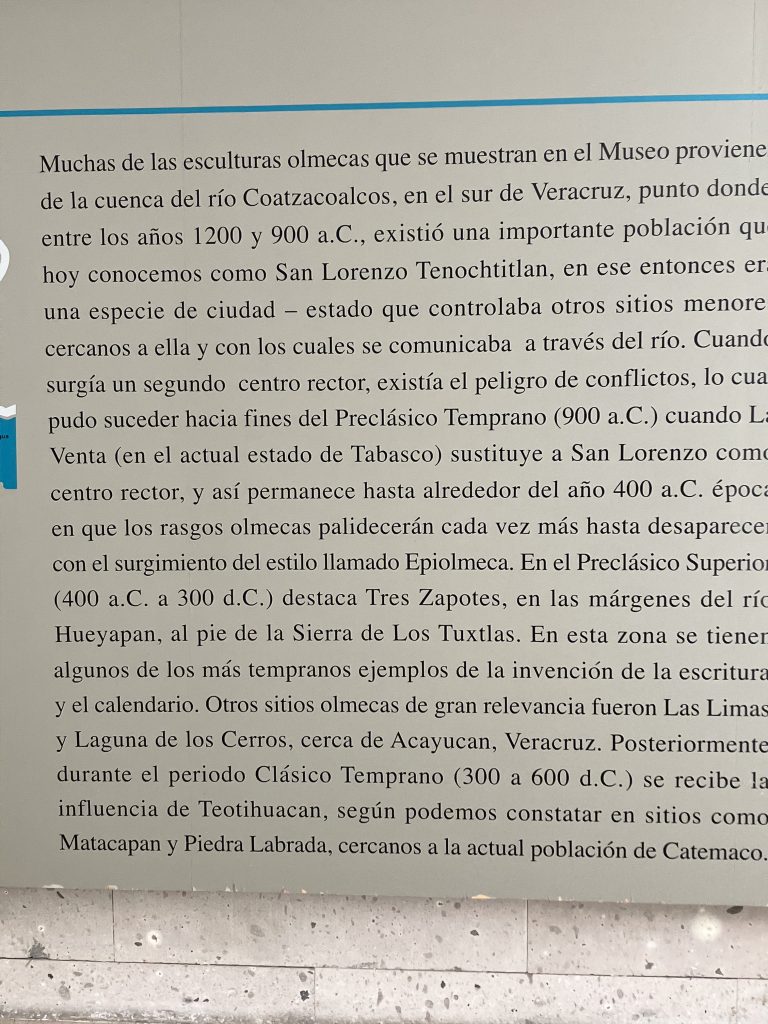 I will try to keep up from now on.