IMG_0696 (1)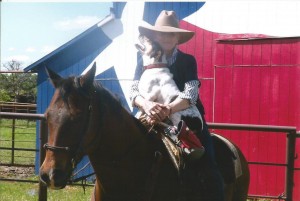 Here it is, with help from Harold of River PC, a moom pitcher. I think. I and my two most faithful riding friends, April Baxter and June Chism, hauled our horses to north Texas, an eight-hour drive, to stay with June's sister-in-law and her husband. De and Clint Brown. That's their barn with the abstract-ish rendering of the Texas flag. Got dog Rita to ride in the saddle with me at least for a bit. We rode on their ranch and then at the LBJ Grassland state natural area which had no grasslands. they are good to be with. the Browns were very hospitable, fed us with gourmet food and wine and a big fire at night, one of the better trips if not THE best.
Clint Brown is a retired FBI agent and had printed up the story of his adventures in the FBI many years ago, I love self-published memoirs. I don't know how he is still alive but was never shot in all his adventures. I am so lucky. I get to meet the most fascinating people.
North Texas is the area where much of my next book takes place. Jennifer Brehl, editor, and I have decided on the title News Of The World. I should put this up on my front page I suppose. I am at present waiting for her next edit of the mss.
Storms threatening all week. I have three big Spanish oaks that have lost most of their limbs either through high winds or drought.  It is like seeing friends or family grow old and debilitated. It makes me sad. I try not to think about it. Such is nature or something philosophical in that line.