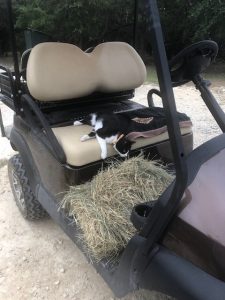 Sooty Cat loves to ride with me down to feed the horses, lounges about on the seat, is currently inspecting the hay for traces of mouseness, just checking.
The movie is going into production and the producer sent me a report saying the release is for Christmas Day 2020. My cousin checks the entertainment news all the time and texts me to tell me what's new , what's up, what's happening with the movie, as does the producer Gail Mutrux and Lynn Pleshette. Simon the Fiddler is also in the final stages of production (as a book) and the endpaper map is going to be fantastic! A little sketch of Simon — people always like to have an idea of what the main character looks like.
We have gone through a terrible dry spell. I remember when I first bought this place I thought, Oh boy thirty-five acres, I'll never have to buy hay again! Wrong. Am feeding hay, grass all dry and eaten up. The worst of having to buy hay is wrestling with the 60-pound hay bales, I am just getting too old to do it. I think I  can get the Sabinal Feed Company to deliver, however.
Better get this up before I go down to pasture and spend enjoyable quiet hours cutting some trails through cedar — Jackson my new horse is so prone to getting himself cut up, He is a klutz in many ways, startles easily but doesn't go anywhere after a big emotional startle. Does a little leap; 'What the hell was that? What the hell was that?' It was a jackrabbit, Jackson. You have seen them before. They are vegetarians. They are non-combative. All is well.
A cool day, the hot weather seems to be gone at last.