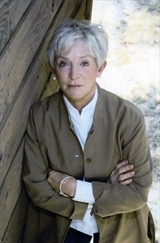 Paulette Jiles is a poet and memoirist. She is the author of Cousins, a memoir, and the bestselling novels Enemy Women and Stormy Weather. She lives in San Antonio, Texas.
I sing in a choir, which I enjoy very much. I am an alto, and so have to carry harmony. Since I am very deficient in reading music, I depend on the person next to me and the basses behind me to find my note. I have Piano For Dummies and a keyboard, but I am not making much headway. Luckily, I have a good ear and am neither sharp nor flat excessively. I envy the sopranos. Especially the lilting voices on the Alleluias—and they get to do the melody. But somebody has to chop wood and carry water.
I am working on a sequel to Lighthouse Island — after all, if you spend time and effort to construct an alternative world, why abandon it after one work? The next story about the Western Cessions, aka Drought World, will be about different people, same arid continent covered in 'city' and blasted by dust. Until the rains come.
I don't know how many dystopian novels I've read  in the course of writing Lighthouse Island. And thus I came upon the master, Jack Vance. Next to Bradbury, of course.
In the meantime I have necessary work to do here on the ranchito, including feeding and care of two horses and a donkey, fence work, hauling feed and hay, and cleaning stock tanks. I write in the mornings; but when the hot weather comes, I will have to shift that to the afternoons, as the cool early morning hours will be the only time to get outside work done. I ride with friends once or twice a week. I don't travel all that much, but when I do, it is usually to Missouri to see family, to San Antonio, Texas, to go to the opera or to have lunch with friends, or to Llano, Texas, to visit with writers Laurie Jameson and WC Jameson.
The Texas drought continues. San Antonio is going to Stage 5 water restrictions. Bad.
Photo by Jill Gann
Paulette's publisher is Harper Collins