Cowboy Bar Nocona Texas
But this really is the end of my traveling. At any rate, a trip to Indian River Florida was very good, an audience interested in the Captain and Johanna and they laughed at my jokes, what more could I ask for? Long walks on the Atlantic beaches, good people. Beautiful venue at the Orchid Island Yacht club.
Drove in from San Antonio airport and got home at 2:00 in the morning and then up the next morning to load for North Texas — June, April and I and the horses all headed for Nocona. We rode at the LBJ National Grasslands where there is no grass but forest. Fairly thick, too. We stayed with Dee and Clint at the Half-Circle Eleven ranch, June's husband's old family property. Then that Saturday night went into Nocona with Dee and Clint for 'Nocona Nights', good band, the most over-the-top cowboy bar I have ever seen. It was a great trip even if I was tired and not talkative. Worn out with talking in Florida. Do we live on talk? You wonder. I could go without talking for weeks on end.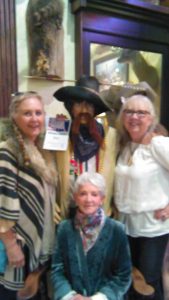 Us in over-the-top wonderful cowboy bar in Nocona Texas.
Easter was great this year.
News from the community; an elderly lady here is the aunt of Tammie Jo Shults, who piloted the Southwest flight to safety when an engine blew out and a passenger was almost sucked out of a blown-out window. The men who tried to save her were a Texan oilfield worker and a firefighter. They did not save her life, unfortunately.  The elderly woman said that Tammie Jo told a reporter, 'I felt the Lord was wrapped around me'. In answer how she was able to fly the plane to safety. I didn't see this as I don't have a television.
Tom the fiddler and I and Becky Gring worked hard on two Irish pieces ; Inisheer and Sheebag Sheemore, That was delightful, a great experience, complicated melody on Sheebag Sheemore, very fast, and Tom just tore into it and if I missed the first three notes I couldn't catch up until the bridge, scrambling like crazy to get there at the same time he did. Also on Inisheer I used my big Low G whistle and had to switch to D for Sheebag Sheemore. (Properly spelled Si Bhaig Si Muir). We played for a fairly large audience. Pastor Chuck great on the mandolin as always.
Terrible dry windy weather, allergies ascendant.