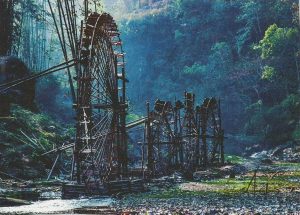 Beautiful photo, seems from a fantasy novel. Taken by Sylvie Collier, somewhere outside of Sapa, Vietnam. These are old bamboo water wheels, with the Tien Sa waterfalls on left.  Found this in a photography magazine which I was reading while sitting at the clinic waiting for my allergy shot.
Traveling for book signings. San Francisco this weekend, then Feb. 6th to Jacksonville MS and then Savannah Georgia, and it doesn't end there. Message from Michael Ondaatje, will see him and Linda in San Francisco, at the Book Passage signing, hooray! It's been forever.
'Angels and Demons In the Ozarks' will come out in Harvard Review 50th anniversary edition, not sure when. I wrote it quickly, short piece.