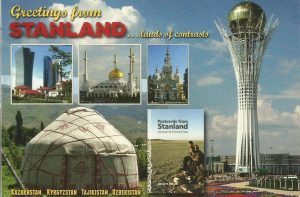 I ran into this author and his (I think) self-published book and meant to order it and read it but never got around to it. Anyway, he was handing out this postcard; Greetings from Stanland'. It's an amalgam of the Soviet propaganda images of all the small Stans included in the Soviet Union which are now free of the old Soviet Union and can be as corrupt ands tribal as they like, along with grandiose Stalinesque architecture. I don't know if that thing with the ball on top is real or not, it could be photoshop, this whole post card could be parody.
I am a fan of Soviet parody images. I love them. I am aware that during its existence nothing about the USSR was at all funny.
There is an excellent and often overlooked book of a man and his family's escape from a Soviet work camp. I thought nobody every escaped. But they did.
I Speak For The Silent Prisoners of the Soviets, by V. Tchernavin. Written soon after their escape to Finland in the '30's. Very cheap on Kindle.  He is really good on why the economics never worked. Interesting. He was in charge of a fishing operation in the White Sea and describes how the NKVD/GPU was a nation within a nation.
And so comrades, read and be informed. The future lies before us, as it cannot well lie anywhere else.