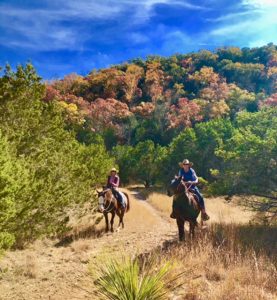 This is what April June and Evelyn were up to when I was in Connecticut and then Missouri, riding the hill country. Foto by April Baxter.
Great fall colors. June's horse Missy did very well now that her eye is healed up, even though June calculates she has lost 50% of the vision in it. My Missouri ride pictures (Ozark Trail, Eleven-Point River, McCormick Lake) will be up soon.
Was in New York city and then Greenwich CT, in NYC had dinner with Jennifer and Liz, we had a very good time. Then Texas Lit6. festival, also Faith's wedding. (More pictures, more promises of 'soon').
Now — clean house, get fence built, get a new mattress, get rid of the old one (very complicated, long drive to a proper dump, etc.) write, cantata practice, practice with group, new songs to learn on the whistle, write, water surrounding yard all day every day (we are in a drought again) start working with Buck, clean garage, put up Christmas decorations, write.