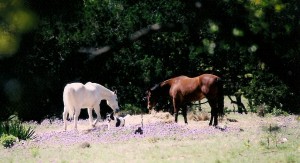 It has been a while sine the lower pasture was filled with verbena but we are going to get flowers this year. this is Dolly and Buck and my dog Berkley who has passed away since this picture was taken.
There have been two funerals where myself and the bluegrass gospel group have been asked to sing and play. We did well. The first was the sister of one of our best vocalists, and we did our best for Jan Saunders. Afterwards a big barbecue was held on the Donoho land on the Sabinal River. Jan and her husband had known each other since they were five years old. They raised horses, trained them for the track. Her husband was just enduring it all. Shaking hands and accepting consolations as best he could. It was heartbreaking.
Then Frank Jones, a rancher, who was ninety, had about seven sons and all the sons had sons so the church was filled with big tall men and they were all dark-haired, and they all knew the words to It Is Well With My Soul so that when the hymn started it sounded like the Red Army Chorus.  Very moving.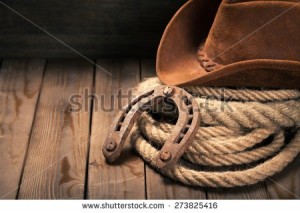 The publicity for the book is moving along although they want to take the figure of the girl and wagon off the cover, so there is some discussion about that. Went to Austin to meet the sales and publicity team who were there for a meeting. Good people.
Hope to keep this blog up better. (Weird alliteration/syntax there).