And all of a sudden, just like that, I started to hate statues.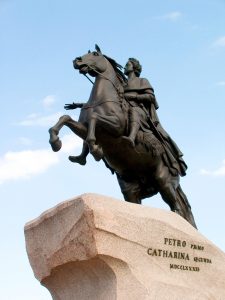 'The Bronze Horseman' (ending) by Aleksandir Pushkin, ca. 1833
The poor madman circled around
The foot of the black statue's mass,
He gazed into the brazen face
Of the half-planet's ruler, proud.
And was his breast oppressed. He laid
On the cold barrier his forehead.
His eyes were veiled with a mist-cover,
His heart was all caught with a flame,
His blood seethed. Gloomy he became
Before the idol, looming over,
And, having clenched his teeth and fist,
As if possessed by evil powers,
"Well, builder-maker of the marvels,"
He whispered, trembling in a fit,
"You only wait!…"- And to a street,
At once he started to run out –
He fancied: that the great tsar's face,
With a wrath suddenly embraced,
Was turning slowly around…
And strait along the empty square
He runs and hears as if there were,
Just behind him, the peals of thunder,
Of the hard-ringing hoofs' reminders, –
A race the empty square across,
Upon the pavement, fiercely tossed;
And by the moon, that palled lighter,
Having stretched his hand over roofs,
The Bronze Horseman rides him after –
On his steed of the ringing hoofs.
And all the night the madman, poor,
Where'er he might direct his steps,
After him the Bronze Horseman
Keeps on the heavy-treading race.