Happy Easter!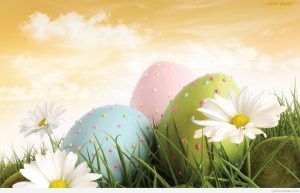 Great service this morning, our Easter anthem went well, I did not trip over my choir robes, the church was packed to overflow which meant a long communion time and we sang our 'background' communion songs until we ran through the usual two, stopped in confusion as there were at least 20 more people still coming for communion so then Diane started up 'One Bread One Body' on the piano and so we just went right into it.
Lovely day (for me at least) meaning clouds and drizzle. I like it. It's wet, it's grassy, it's moist out there. The wren couple has come back and the roadrunner/chaparral bird is making that mourning noise which means he is looking for a mate. Every year he flies up into a Spanish oak and makes mourning noises. It's his 'I'm lonely' call. A hen bird will soon reply I am sure.
Next week; new sink, plumbing, fallen pumphouse shelter to be hauled off and a new one brought in, landscaping — oy, all the stuff neglected while I was traveling so much. And Buck has lost a shoe.