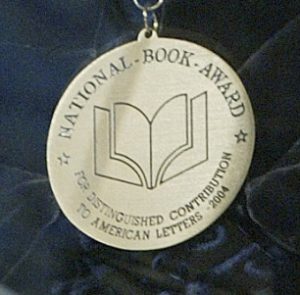 typing with one hand. I was a finalist. I didn't win.
okay I fell on a rainy pavement coming out of bookpeople in Austin where I had just been signing books and had an interview with the dallas morning news and had met june and her daughter nikki, we agreed to meet later for dinner, I walked out and came down off a curb on my left foot, slipped, broke left wrist in 2 places, bashed face on left side. off to trauma center in ambulance. june and nikki came and did all sorts of heroic driving in rainy Austin traffic to get my prescriptions get me to hotel and left me w/ hot tea and painkillers.
I ordered chili poblano soup from room service, it was the crappiest soup I ever ate. insult to injury. acid green lichen-like slime. and I had to eat that shit with one hand.
so I drove home next day after I gave reading and signed boox with black eye and emergency cast (yes I actually did, there are witnesses) and then drove home in rainstorm w/ june ahead of me, started fishtailing and spun out on hiway 483 ?? landed in arms of a big cedar, people stopped, got truck back on road, I went on home. drving w one hand leads to various disasters but the point of all this is I made it to n.y. for all the hoopla for nba. this with a grim black eye like the eye of sauron and arm in a cast.
my editor jen brehl and agent liz darhansoff deserve endless accolades and heartfelt thanks for all they did for this book, their kindness all around, and ESPECIALLY since liz had to help me put in my earrings and jen had to cut up my food. Fijate! that is true friendship.
got to stay with liz in her apartment on riverside drive and be driven around in limos!! also my bluegrass group sent me a video of them all yelling good luck! do I deserve all this, I ask myself.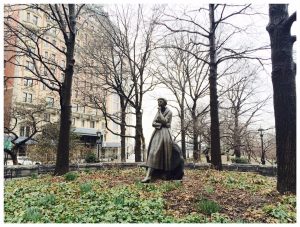 statue of Eleanor Roosevelt riverside drive, liz' ap't one of the buildings behind.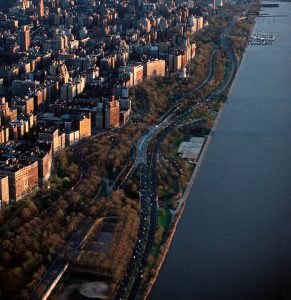 voila riverside drive plus park body of water adjacent is the Hudson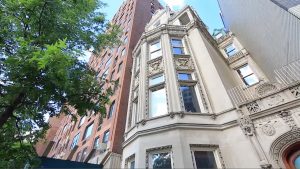 one of the cool little elderly buildings surviving intact on r'side drive between huge ap't bldgs., these are all off bing images.
liz a most amiable companion and good walker, we had a wonderful walk down the park alongside the Hudson ab't two miles. I have pics of the awards dinner on my phone which I lost and then refound will post them when I get Harold t come help me. lunch w/ HarperCollins people was so nice. amazed at champagne toast from all to me! jen brehl you are amazing person and great editor. and so on I went, floundering from event to event w/ grimy cast and makeup plastered over black eye.
for the awards dinner I cut the cuff off a black sock and put it over cast, jen helped stick rhinestones on it.
so many events and harper Collins supplied limo for all, went up and down west side parkway a gazillion times (a gazillion is the total of the u.s. national debt plus five and a bag of chips).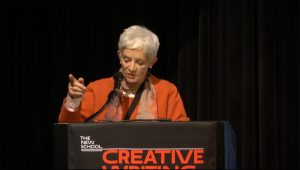 that's me at the reading for all finalists held at auditorium of new school for social research and I am laying down the law about something or at least the captain is, probably 'you will fight with each other on your own time and not during my reading'. note they selected a color for the graphics to match my sweater.
some time later will include more stuff. a short time w/ Gordon lish, far too short, which reminded me why I absolutely love the guy, his stream-of -consciousness gossip is revelatory, heartening, I could have listened for hours.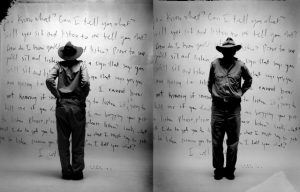 lish. great image. stole it from numerocinq.com.