This is kind of funny but also — acerbic.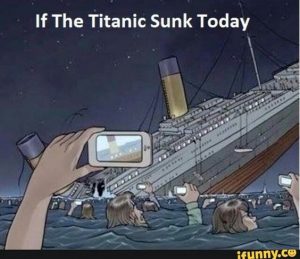 A lot of visitors and events, at all of which I forgot to get out my cell phone and take pictures. Cousin Susan came to visit and then stepson Jim jr. and DIL Nadine. I borrowed a horse from April Baxter for Susan to ride, and we had a good ride, and then he wouldn't load. I didn't get any pictures. I forgot. And then we went to the St. Jo's dinner with many friends and I forgot again. And then we tried to load that horse to return him to April and he wouldn't load and I didn't remember my cell phone was right there.
And then Jim jr. and Nadine and Susan and I went on an arsonists' binge and burnt all the downed limbs etc. that Jim jr. and I had cut and it was a great interesting fire down in the pasture and again I didn't bring my cell phone to no pictures.
Then they all went home and I tried to load that horse by myself and he went totally crazy, rearing back against his halter and striking out and I just got out of the way and finally his halter broke and he went galloping down the road, and of course I didn't think to get a picture.
Then April came today with a helper and we finally got the maniac loaded and no pictures. I forgot.
BUT!! Susan and I visited with June Chism and Wayne and Nancy — June and Nancy had been riding but that was the day we couldn't get Scout loaded and so we just drove out there for lunch with them — I remembered!! Because they had set a hog trap and had caught about four adults and seven or eight babies. WE went out in June's Mule to see them. So here's a picture!!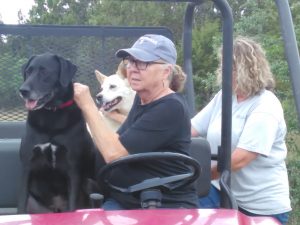 June and Susan looked fairly alarmed because the hogs were charging the sides of the cage when they saw us, trying to attack. Dogs: the white one is mine, Girl Dog, and June's part-lab Jackson.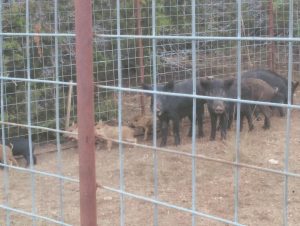 Several seconds pre-charge. Girl Dog was charging back from the other side of the fence despite the fact she just healed up from 12 stitches in her abdomen from being hooked by a wild hog. So we dragged her back into the mule and Susan kept hold of her while I (at last!) had presence of mind to take pictures.